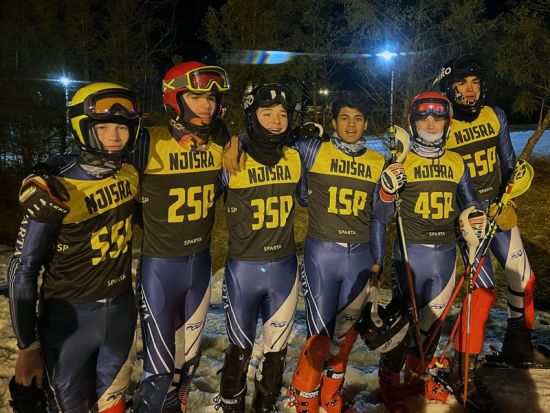 First Race Of The Season - Varsity Boys Take 2nd Place!
It's been a challenging start to the alpine race season for all New Jersey High School ski teams this season. Since the holidays, unseasonable warm weather and rain have prevailed. Three weeks into January and all scheduled ski races and many mountain practices had been canceled. Finally, after weeks of patiently waiting and preparing to race, it was time for all NJ high school ski teams to compete in two mega-conference races split into East and West races. On Friday, January 20th, thirteen eastern teams raced slalom at Mt Peter in NY and ten western teams raced slalom at Blue Mountain in PA, including Sparta High School.
Excited to finally race, we were all anxious to send it. Our team had only skied on Blue Mountain's Razorback trail once and we knew firsthand that this was the real deal. Although feeling nervous at the start, every one of our racers skied with strength and determination. The course posed a challenge for all teams to complete. Numerous racers struggled to finish the course (DNF) or avoided being disqualified (DSQ). The percentage of DNF's and DSQ's ran high. Sparta was no exception, luckily we had four finishers on both the girl's and boys' teams to deliver results.
BOYS VARSITY SKI TEAM: Compressed team times win races; our boys' varsity ski team is proof capturing the 2nd place podium with four close individual combined times to deliver a team time of 5:02.03. Pingry won the race with a team time of 4:28.47 and Bernards finished 3rd with a team time of 5:28.91. Contributing to our boys' team time were Drew Young (10), Captain Kanna Pasunuri (11), and Asst. Cpt. James Kressman (13) and George Flint (15). The boys' score for the race was 7 wins and 1 loss; adjusted to 5 wins and 1 loss with a win percentage of  83.3%.
GIRLS VARSITY SKI TEAM: The Sparta Girls took 4th place with a team time of 6:13.38. The Pingry girls also won 1st place with a team time of 4:54.21. Ridge took 2nd place with a time of 5:23.53 and Blair took podium third with a team time 5:24.34. Contributing to our girl's team time were Aubrey Zimmerman (9),  Asst. Cpt. Elizabeth Flint (18), Julia Mooney (24), and Ava Dyrsten (28). The girl's score for the race was 6 wins and 3 losses; adjusted to 4 wins and 2 losses with a win percentage of  66.7%.
All four of our alpine race teams have the talent and depth to lead us to State Championships. We are off to a strong start and I can't wait for the entire team to get the chance to compete this Sunday. It's great to finally see the ground blanketed in snow. Hopefully, winter is here to stay. Join us at a race and cheer on our athletes.
Thank you to Blue Mountain Resort in Palmerton PA for hosting our first race of the season. Thank you Coach Butler of the Jefferson Ski Team for saving the day and responding so quickly to my call to help get our team to the race, we all enjoyed the camaraderie and support.
Here are the team standings after our first conference race: Varsity Girls 7th Place | Varsity Boys 5th Place Wins and losses have been adjusted by .666
Congratulations Boys On the 2nd Place Podium!
Mark your calendars, our next race is Sunday, Jan. 29th at 12:30 pm at the National Winter Activity Center. Competing in this race will be all four Sparta Ski Teams.