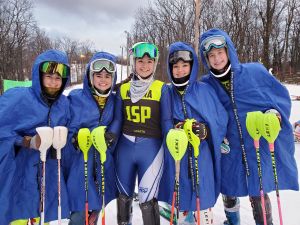 Sparta Girls Continue Last Years Podium Streak
Now officially midway through our conference races, the Girls Varsity Ski Team has repeatedly demonstrated they are on Fire ! After a week of training in the deeply rutted and heavy snow on the training course, our racers were well prepared and anxious to take on our first slalom race of the season. Our inspection showed the race course on Kamikaze was clean and ready to shred. Prior to entering the start hut, our racers were going through their pre-race rituals, and teammates were sending them off with fist bumps and words of encouragement. Needles to say everyone exploded onto the course determined to make a difference. 
Racing one girl short with only five racers in the lineup; the girls team pulled off another podium placement. This marked the third time in a row, the girls team won second place with a team time of 6:13.22. Winning first place was the undefeated Ridgewood 5:56.04 and taking 3rd place was Mountain Lakes 6:14.33. Once the race was over the Girls Varsity celebrated with 3 wins and 1 loss. Senior Jillian Stote (8th overall) led the way with two consistent fast runs, trailed by Olivia Finkeldie (10th overall), Cora Moriarty (13th overall) and Claudia Calafati (14th overall). These girls are focused on making it to State Championships.
The Sparta Varsity Boys Ski Team just fell short of the podium, finishing 4th overall with a team time of 5:45.76. Undefeated Ridgewood finished in first place, Vernon in second and Morristown Beard finished third. Once again, team captain Connor McAndris (8th overall) led the Sparta Boys Ski Team carving out two quick slalom runs, followed closely by teammate Tucker Sears (12th overall) with a superb second run, Kanna Pasunuri (17th overall) and Colin Kowalski (21st overall).
Here are the team standings after our third race: Varsity Girls: 8 Wins 3 Loss | Varsity Boys: 4 Wins 6 Loss.
Congratulations Girls For Placing On The Podium! 
Thanks to everyone who came out to cheer on the Sparta Ski Team. We hope to see you all at our next race, the thrilling Dual Slalom this Saturday Feb. 1st at 10am.
If anyone has photos from the race, please email them to coach@SpartaSki.com.