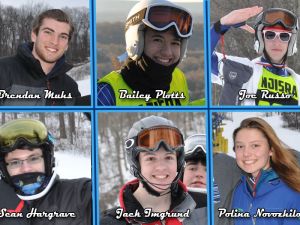 On Wednesday, May 29th, 2019, Sparta High School senior athletes were honorably recognized at the Annual Senior Monogram Dinner held at Perona Farms. Congratulations to all the Senior Athletes and scholarship recipients.
For those of you not in attendance, I wanted to share our Ski Team presentation. After hearing the other presenters before me, I opted to deliver a similar but abbreviated version from the one I have posted here.
SENIORS: Bailey, Polina, Sean, Jack, Joe & Brendan, you are quickly approaching the last gate; enjoy this special moment in your life and good luck with your last few weeks of high school.  
---
We train and compete inside what feels like a virtual snow globe. With the exception of dry-land training, we are always on the mountain. Shake up the snow globe and you will see and hear:  repetitious course training, intensive ski drills, 4 hours of daily training, bitter cold temperatures, razor sharp edges, starting gate jitters, two runs to qualify, only full send, cross-blocking, carved race turns, speeds approaching 50 mph, delay gates, hairpin turns, slamming down the gates through the flush, shredding the gnar, avoiding the bee netting, DNF, DSQ, low tuck across the finish line, cowbells, cheers ... PODIUM VICTORY!
Welcome inside the world of the Sparta Alpine Racing Ski Team. "Don't Just Ski. Race". That is exactly what this ski team did, they consistently raced strong onto the Podium.
Good evening everyone.  My name is Rodney Calafati and I am the head coach of the Sparta Ski Team.
For those of you that may have missed the local news headlines this winter, the Sparta ski team had an exceptional season. This was possibly the most talented group of alpine ski racers Sparta has ever put together. Our 28 racers immediately bonded together, worked hard, had fun and came up victorious. 
This season we competed in 6 league races, equally split between giant slalom and slalom racing. At all six races, both varsity ski teams, boys and girls, won podium placement. In 2 of those races we captured 1st place.
At the end of the season, we competed in the Petro Giant Slalom Championship, a super mega race where all 23 NJ high school ski teams are present competing to advance to State Championships. I am proud to report, the Sparta Varsity Girls Ski Team won 1st Place and both varsity teams advanced to the State Championships.
At the State Championships, a multi day event, both our JV Girls & the Varsity Girls Ski Teams, stepped onto the podium and won 3rd place.
Three Sparta racers were named "All State" this season and advanced to compete with the NJ State Ski Team at the USSA Eastern Regional High School Championships in New Hampshire.
Our Varsity Girls Ski Team were awarded the NJAC (Northwest Jersey Athletic Conference)  2019 title of Champions. They were also named the NJAC American Div Champions.
And lastly, we received the NJISRA Coaches Ski Team Sportsmanship Award of the year.
I want to thank my Assistant Coach,  Joni Porter for her dedication and hard work, who this season celebrated a decade of coaching the Sparta Alpine Racing Ski Team. 
Tonight we honor and celebrate our seniors. We are all very proud of this group of graduating students.  At our Ski Team Awards Banquet Dinner, the Sparta Ski Booster Club graciously awarded $500 senior scholarships to: Bailey Plotts, Polina Novozhilova, Jack Imgrund, team captain Joe Russo and team captain Brendan Muhs. Let's give them a warm round of applause.
Tonight there is one senior athlete, deserving special recognition who will be greatly missed not only by the Sparta Ski Team but by the entire New Jersey Ski Racing Association. This senior athlete is Brendan Muhs. He has been the face of the boys varsity ski team for the past four years. For those of you not familiar with alpine racing, there is only room for 6 racers on the varsity boys ski team. Not only has Brendan been 1 of those 6 racers all four years; he has persistently been the number one racer on the Ski Team since he first joined as a freshman in 2016.
The past two seasons, Brendan has effectively led our ski team as a prominent team Captain.
His long list of personal achievements sets him apart from all the other alpine ski racers in the state. All year long, our team relied on him to get the job done and he always delivered. Consistent and determined, he finished first for our ski team at every race this season.   
This year more than 200 boys competed in the New Jersey alpine racing high school program, Brendan Muhs finished the season 2nd best in the State for league points and qualified to race on the NJ State Ski Team and compete at the Eastern Regionals, for the 3rd yr in a row.
He was the King of Slalom this season, dominating the slalom course, winning 1st place at all 3 league races and at the State Slalom Championship, Brendan won 1st place.
In the combined race results for Giant Slalom and Slalom at this years State Championships, Brendan Muhs was THE CHAMPION, winning 1st place overall.
Besides being the best alpine racer in the state and a fantastic baseball player; Brendan is the kind of athlete every coach wishes he could have on their team. He skis strong every chance he can, and he never lets off the gas. What is most remarkable about Brendan is that he has always been a humble leader, and a great example of sportsmanship. He is confident, genuine, thoughtful and respected by his team mates and rivals. He was the recipient of this year's most valuable skier award. He will be attending Keene State College in NH this fall and continuing to play baseball. Thanks for being a team captain and leading our team to victory this season.
Seniors, the Sparta Ski Team and the coaching staff will miss you dearly. With every ending there is a new beginning. No matter which trail you chose to conquer, I know you will always reach the finish. Thanks for an amazing season. Best Of Luck To All Of You!