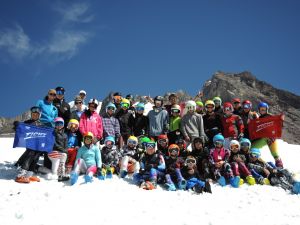 Want to shred the race course this summer?
The following three alpine racing summer training camps are all wonderful options to improve your GS and Slalom ski racing skills and have fun this summer. All camp rates are all inclusive of lodging, meals, local transportation, lift tickets, video analysis, race training, coaching and more.
NOTE: Air fares are not included.
Tichy Racing Summer Camp, Mt. Hood, Oregon
http://www.tichyracing.com/
$1,590 Ten weekly sessions beginning June 5 through Aug 14


ARCS-USA Alpine Camp at El Colorado, Chile 
http://www.arcsusa.com/
$4,350 July 31 to Aug 13


Waterville Valley Academy Hinterdux, Austria Race Camp
https://wvbbts.org/camps/alpine/hintertux-austria/
$3,200 June 24 to July 5th
FYI: Several of our racers have shown an interest in attending the race camp at Mt. Hood this summer. For more details, please contact me.