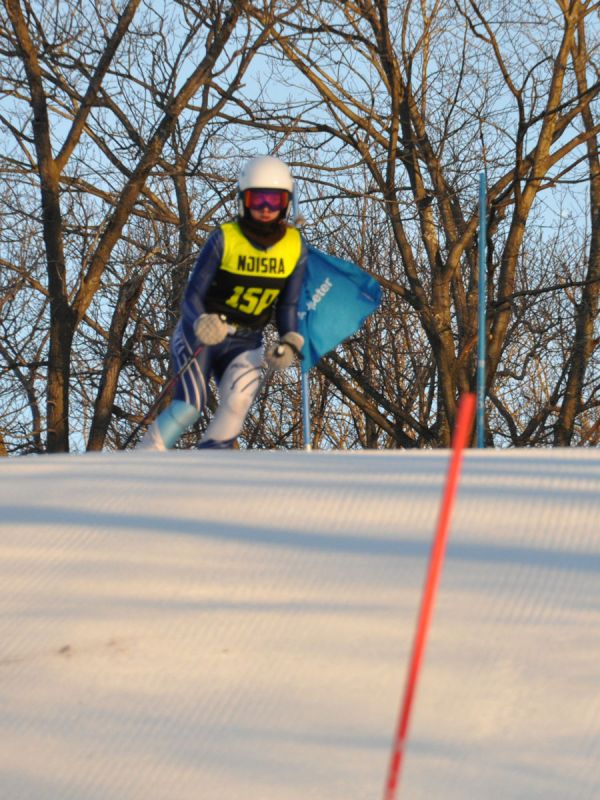 The Sparta Junior Varsity Girls Alpine Ski Team raced to Podium 2ND at the 2022 NJ Giant Slalom JV State Championship Race held at Mount Peter in Warwick, NY on Feb 18th, 2022. The Sparta JV Girls Team competed against six other high school JV ski teams for podium placement. Ridge girls won the championship with a team time of 5:35.71. Sparta girls clinched podium 2nd with a team time of 6:01.55 and Vernon took podium 3rd with a team time of 6:02.26. 
The Sparta JV girls ski team won podium 2nd with four first-year alpine racers who quickly improved throughout the season and often contributed to the JV ski team race time.  Julia Mooney once again led the JV race team finishing in 3rd place overall with a combined race time of 1:21.47, followed by Ava Dyrsten with a race time of 1:29.58 (10th), Devon Dobbs with a time of 1:32.66 (13th) and Brynne Cashion with a time of 1:37.84 (16th). Ella (Damon) Welber raced fifth for Sparta and finished (27th) with a time of 1:56.64.
Although the Sparta JV boys did not have enough alpine racers to qualify as a race team in the event, both Devon Scott (17th) and Gabe Harrison (32nd) competed in the giant slalom race and finished both runs successfully.  Don Bosco JV boys ski team won the race with a time of 4:49.65. Wayne Hill took 2nd place (5:22.84) and Delbarton 3rd place (5:26.65).