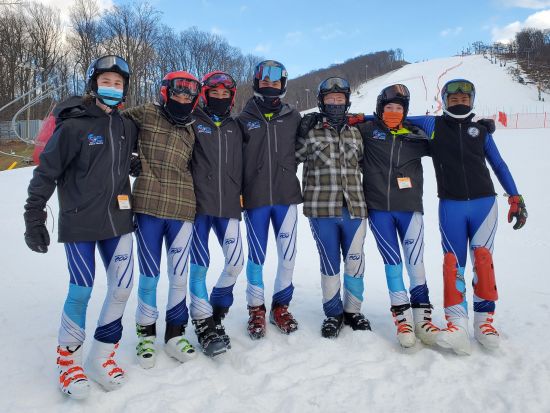 Boys Varsity Steps Up To Podium 2nd
Battling colder temps and icy second runs, both the boys and girls varsity ski teams stepped onto the podium at last night's final conference slalom race at Winter 4 Kids in Vernon NJ.
With Don Bosco High School absent from the race last night, the Sparta varsity boys team seized the opportunity to capture second place. Consistently leading the boys varsity ski team was sophomore racer Kanna Pasunuri who had a fantastic night and finished a solid 4th place overall. Also contributing to the boy's team time was Drew Young (9th overall), Jake Koerner (10th overall), and Ben Dykstra (13th overall). The boy's team finished the race second with a team time of 5:14.19. Winning first place was Wayne Hills with a time of 4:41.79 and taking third was Mountain Lakes with a time of 5:33.76. The boy's team picked up 4 wins and 1 loss for the night.
It was a challenging night for the girl's team, with two key racers coming up short and one missing from the lineup, the girl's team relied on its remaining four racers to cross the finish and deliver results. They met the challenge,  skied steady and fast, and secured third place with a team time of 5:24.13. Leading the girl's team with two energetic runs was Cora Moriarty who finished in 8th place overall, followed by teammate Rylee Selsor who finished in 10th place, then Team Captain Rachel Young in 12th place, and Emma Dyrsten in 20th place. Winning first place was Tenafly High School with a time of 5:06.28 and finishing in second place was Mountain Lakes with a time of 5:17.40. The Sparta girls team picked up 3 wins and 2 losses for the night.
The Sparta girls are presently ranked 4th in the State and the boys are ranked 7th. The top 8 of 20 NJ high school teams will qualify for States. Here are the team standings after three conference races: Varsity Girls: 12 Wins 4 Loss | Varsity Boys: 13 Wins 5 Loss.
Congratulations Boys On 2nd Place Podium
& Girls For Clinching 3rd! 
Mark your calendars, our next race is Friday, Jan. 29th at 5 pm at the National Winter Activity Center.