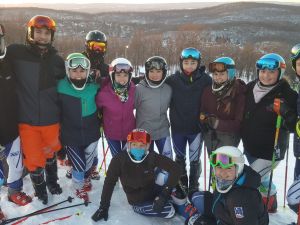 Poised to race against some of the top teams in the state last night, both the boys and girls ski teams raced strong and once again found a place on the podium. Thankfully mother nature was looking out for the Sparta Ski Team, forcing our first slalom race originally scheduled for Jan. 30th to be postponed over a week later. This allowed our ski team extra days in the slalom training course and to acclimate ourselves with racing in the warm weather snow conditions. During this time frame, the varsity ski team also had the opportunity to test their slalom skills and compete head to head in the thrilling Dual Slalom race. With four extra days of slalom practice under our belts, plus the dual slalom race, our skiers were no longer concerned with the heavy snow conditions and potential for deep ruts.They remained focused on the gates ahead of them and skied with confidence to the finish.
Just 3 seconds away from taking 1st place from Don Bosco, the Sparta boys ski team won second place last night. A solid 25 seconds faster than the third place Wayne Valley ski team. The Sparta Boys ski team won second place with a total team race time of 5:04.66. Leading our team and winning 1st place among the 36 boys who raced, was our team captain Brendan Muhs. Also contributing to the boys strong performance were Connor McAndris (10th overall), Joe Russo (13th overall) and Tucker Sears (16th overall). Jack Imgrund finished 18th overall and Charlie Flint finished 21st overall.
The Sparta girls varsity ski team continued to ski steady and won third place last night just behind the powerful Ridgewood Ski Team 1st place and Wayne Valley Ski Team 2nd place. The Sparta Girls Varsity Ski Team won third place with total team race time of 5:33.77. Leading the Sparta Girls Varsity Ski Team to the 3rd place win were Jillian Stote (7th overall), Polina Novozhilova (8th overall), Olivia Finkeldie (9th overall) and Rachel Young (13th overall). Claudia Calafati finished 15th overall and Rylee Selsor finished 17th overall.
All six Sparta JV Boys finished in the top seven, leading the charts were Jake Scott in 1st place, Jack Maraziti in second and Colin Kowalski in third overall. For the Sparta JV Girls team, Cora Moriarty finished in 2nd place overall among the sea of Ridgewood racers.
Our next Slalom Race is Monday Feb. 11th at 5pm
Congratulations Sparta Ski Team For Once Again Holding Podium Placement!