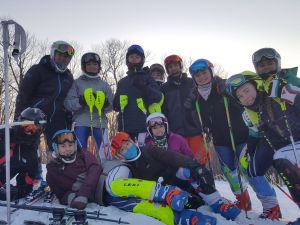 The dual slalom Friday night was a great ski race. At the end of the race everyone of our 16 ski racers was smiling ear to ear and thrilled to have had the chance to compete.
Winning 2nd Place in the boys dual slalom competition out of 68 racers was team captain Brendan Muhs. Without a doubt this was the match-up of the night, Brendan Muhs vs Kyle Hayes of Vernon. Watching these two powerhouses go head to head to the finish was nothing short of exhilarating. Here is how this tight race finished:
 - 1 51 VM VERNON Kyle Hayes 25.02 (1) 24.28 (1) 49.30 (1)
 - 2 52 VM SPARTA Brendan Muhs 25.50 (2) 25.48 (2) 50.98 (2)
Our girls racers also put on a great performance with three of our racers finishing in the top ten out of 43 girls racers. Jillian Stote finished 7th overall, Olivia Finkeldie finished 8th and Polina Novozhilov finished 9th.
The following 16 Sparta Racers competed in the event: Brendan Muhs, Joe Russo, Jack Imgrund, Tucker Sears, Jake Scott, Jed Sutton, Charles Flint & Connor McAndris, Jillian Stote, Olivia Finkeldie, Polina Novozhilov, Rylee Selsor, Claudia Calafati, Evalyn Fitzsimmons, Rachel Young & Cora Moriarty
Congratulations Team Captain Brendan Muhs For Winning 2nd Place !