Top Four Shine At Annual Race Of Champions
It was an all-day event under sunny skies at Winter 4 Kids in Vernon NJ on Wednesday, February 17th, 2021. Cold temperatures and firm snow conditions made for a great race at the 2021 Race Of Champions.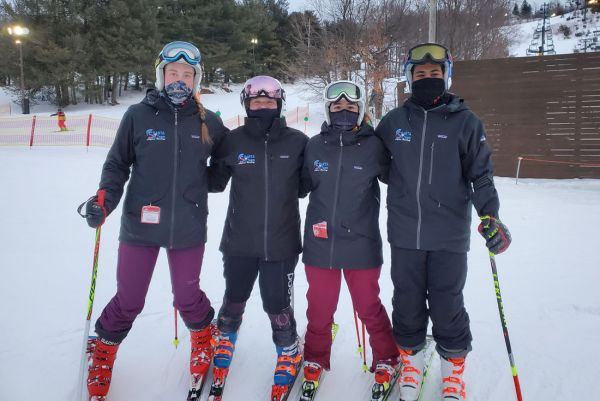 The Race Of Champions is an NJISRA (New Jersey Interscholastic Ski Racing Association) individual championship race. Only the top 40% of high school ski racers qualify to race, based on league points accrued during the regular season conference races. Each year, the top one-third of NJISRA high school ski racers are honored with the distinguished title of "ALL-LEAGUE".  Competing in the event for Sparta High School with the distinguished title of "ALL-LEAGUE" (Top One-Third) were four racers: Team Captain Claudia Calafati, Cora Moriarty, Kanna Pasunuri, and Madison Campisi. The race consisted of two runs of giant slalom and two runs of slalom running the full length of the race trail. All four Sparta racers finished all four runs and finished among the top 22 racers. A task that required strength, endurance, and concentration.
I love how these top four racers worked hard and supported each other all season long. Today they had focus, drive, and positive energy. What a day. What a season.
For the girls, freshman Madison Campisi finished 17th place overall, followed by team Captain Claudia Calafati who finished in 21st place overall, followed immediately by teammate Cora Moriarty who finished in 22nd place. Of the 40 boys who raced in the event, Sparta sophomore Kanna Pasunuri finished 18th overall.  
Congratulations to all of the Athletes who competed in the Race of Champions !!