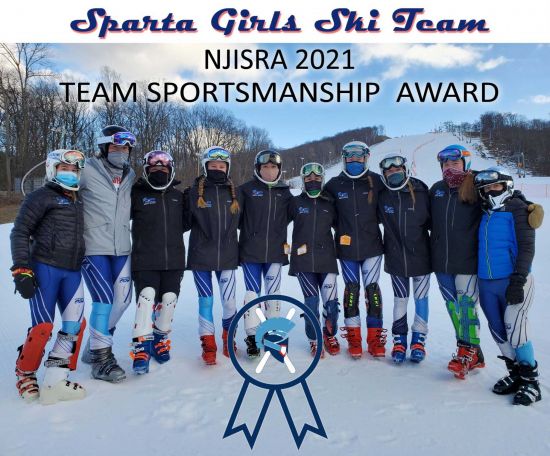 Congratulations Sparta Girls Alpine Racing Ski Team, you have been honored with the 2021 NJISRA Girl's Team Sportsmanship Award. This is the second time in a row the Sparta Girls have won this ultimate team title.
The NJISRA Sportsmanship Award is presented to the ski team whose racers best exhibit the principles of good sportsmanship as voted by the NJISRA head coaches at the end of the season. The purpose of the award is to promote integrity and sportsmanship in the sport of alpine racing. The award is given to the boys and girls team which, through actions both on and off the mountain, has demonstrated fairness, respect, honesty, unselfishness, and responsibility.
Sparta girls, your spirit and kind efforts to support all the high school racers on the mountain have been recognized. I know sportsmanship is something our team captains care passionately about. From the simple act of lending chin guards to racers on other teams, congratulating athletes for a strong run, to being the last team off the mountain top, and cheering on all the athletes to perform at their best. You have made us proud.
In the years to come, not everyone will remember what place we finished at the state championships, but they will always remember the team that showed the best sportsmanship. The Sportsmanship Award is a testament to the character of our racers; it is the one area of competition we can always control. This a bright moment for all of us to share and an amazing finish to end the school year.
Congratulations to all our team sportsmanship honorees.