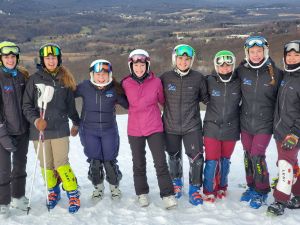 Girls Win 1st Place At Final Conference Race
Six teams battled it out at the final slalom conference race of the season on Tuesday night. Since the girls team had already qualified for the State Championships, all eyes were on the varsity boys ski team seeking to gain entry. In order for the boys team to make it to State Championships they needed to beat 3 of the 6 teams. While they gave it a solid effort, they fell one win shy by exactly one second, not enough to go over the .500 mark and qualify for States. Taking first place was Vernon with a team time of 4:44.76, in second place was Ridge with a team time of 5:09.01, in third place was Wayne Hills with a team time of 5:23.13 and with just one extra second Sparta boys finished in 4th place with a team time of 5:24.13. Finishing in the top ten and once again leading the boys team at every conference race this season was team captain Connor McAndris who finished in 5th place, along with Tucker Sears 11th place, Charles Flint 17th place and Colin Kowalski 25th place. The boys team has one last chance to qualify for the State Championships if it can win the wild card seed at the upcoming Petro GS Qualifier, where all the NJ High School Ski Teams would be competing.
Even though the girls varsity ski team was not the primary focus of the race, they stole the spotlight and finished the season on a high note winning first place. The girls once again skied fast and finished within close range of each other giving them the victory. Leading the pack was Jillian Stote who finished in 4th place, followed by Olivia Finkeldie in 5th place, Claudia Calafati in 7th place and Cora Moriarty in 8th place. The girls closed out the regular season placing on the podium 5 out of 6 races. No doubt, it would have been all six had the Giant Slalom Race not been rescheduled to the day of the formal. The Girls team is looking forward to competing at State Championships.
Here are the final team standings after six conference races: Varsity Girls: 18 Wins 6 Loss | Varsity Boys: 12 Wins 12 Loss.
Best of Luck To Girls Varsity Ski Team At The State Championships !!!