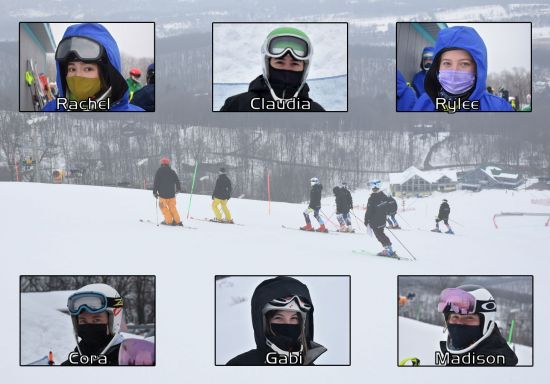 The Sparta girl's varsity ski team closed out the 2020-21 NJISRA alpine racing season with a commendable 4th place finish at the Slalom State Championships hosted at Winter 4 Kids on Monday, Feb 15th, 2021.  Prior to the race, a power outage left our ski team stuck on the chairlift for half an hour during course inspection and delayed the start of the race into the afternoon. When it was finally time to race, the winter fog had thickened and limited visibility to just a handful of gates at the top of the mountain. Excited to send it one last time, every Spartan skied strong and finished the super long slalom course with two noteworthy runs. 
The top three Sparta racers at the Slalom Championship all finished back to back, all within four-tenths of a second and in the top 20 overall. Cora Moriarty finished 1st for the Sparta Ski Team at the Slalom State Championship with a time of 1:43.36 and in 16th place overall, followed by Team Captain Claudia Calafati with a time of 1:43.62 and finishing 17th overall, followed by freshman Madison Campisi with a time of 1:43.79 18th overall and senior Rylee Selsor with a time of 1:49.95 24th overall. 
Tenafly won the Slalom Championship with a time of 6:16.61 and took first place overall at this year's NJISRA State Championships. Ridge finished second with a time of 6:41.50 and Mountain Lakes finished third with a time of 6:43.05. 
Sparta Girls finished 5th overall at The 2021 NJISRA State Championships. "It was a team effort by all six racers and a superb way to end a prosperous season. Each and everyone contributed to the overall team time in one discipline race or another during State Championships. These girls can go home proud knowing they made a difference and they are the reason this team was on the podium all season long. Congratulations Claudia, Rachel, Rylee, Cora, Madison, and Gabi."