First Race Of The Season - The Girls Take 2nd Place!
Occasionally, first races can be an outright struggle. Check ... Done That. Yesterday's race was unusually long for a conference race and taught us all about patience, positivity, and focus. Faced with inspections delays, followed by timing delays, it was a slow start to get the first racer on the course. With every hour that passed, the winds grew stronger and the temps continued to plummet. Huddled at the top of the course, our athletes worked as a team to keep each other positive and try to keep warm; building each other up for their first official run of the season. The course was set from top to bottom at the National Winter Activity Center in Vernon NJ; a significantly longer course than our racers have trained on.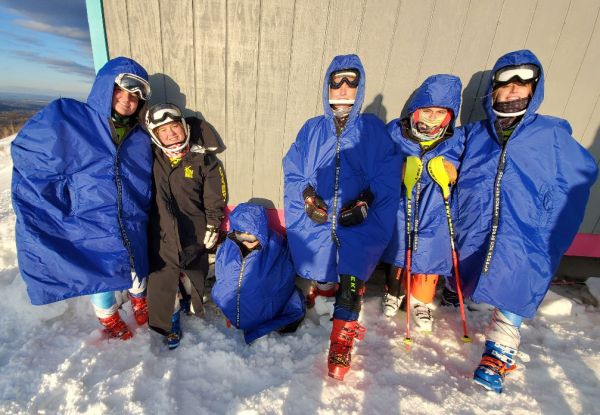 The theme of our first slalom race seemed to be "Leave No Survivors". It was a challenge for all high school racers to successfully complete both runs. NJISRA girls' varsity racers only had a 65% completion rate for both runs and the boys' racers were slightly better with a 69% completion rate. Five of our varsity racers were affected, taking on DSQs, DNFs, and several had to hike in an effort to properly finish the course.
Sadly, with only three of six varsity boys finishing both runs, the boy's team was forced to take on a ghost time and settle for a 11th place finish with a team time of 11:19.72. Contributing to the boy's team time were Drew Young, Ben Dykstra, and James Kressman. It was a close battle among the podium three teams. Ridge won the race with a team time of 8:12.63, followed by Delbarton taking second (8:20.93) and Bernards taking third (8:26.42).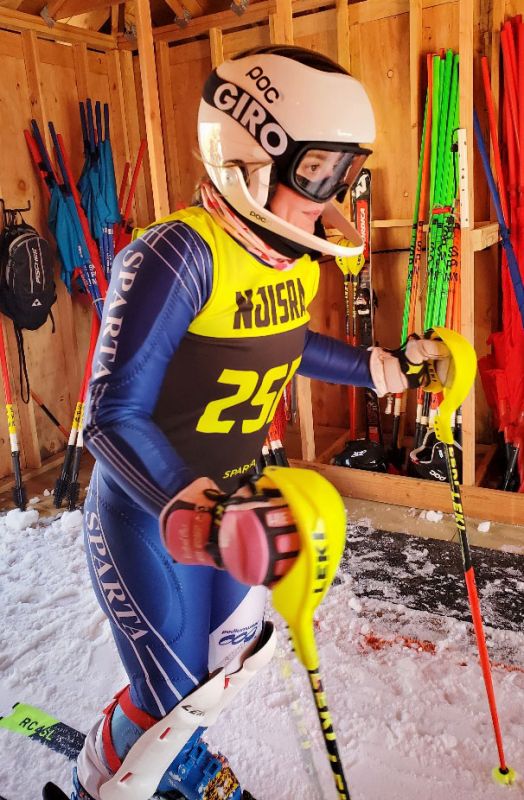 The girls on the other hand escaped the grim grip of the course and pulled out an impressive 2nd place podium finish. Led by Team Captain Cora Moriarty and teammate Madison Campisi, who delivered two very powerful, clean runs helping to drive the varsity girls team onto the podium for a second-place finish. Of the 61 varsity girls racers that competed in the race, both Cora Moriarty & Madison Campisi finished among the TOP TEN racers. Freshmen Aubrey Zimmerman and Catherine Marussich also contributed to the girl's ski team time. The Ridge girls team won the event with a team time of 7:23.49, followed by Sparta taking second with a team time of 7.56.31 and Mountain Lakes taking third with a team time of 8.10.19. 
Anxious. Nervous. Freezing. Facing the toughest challenge of the event were the JV racers who had to wait for hours to race and then find out they would be limited to just one run. By the time it was their turn to race, they were overcome by the frigid cold, butterflies, and no longer familiar with the course. I can proudly say each of our racers found a way to prevail, ski up to the starting gate, look down the dark fall line and successfully race to the finish. One of our JV racers even managed to overtake another racer on the course.
All in all, it was a constructive first race and a vision of the success this team will soon bequest. As a team, we accomplished so much more than the final results can ever reflect, in the race house I witnessed teammates lending warm dry gloves to one another, offering up their clean goggles so a teammate could see the course, racers fastening other racers shin guards, and an outpouring of fist bumps and words of encouragement to be strong and give it their best. I can honestly say, not one racer held back and in the end, everyone was wearing a smile and it was clear we all won. 
Here are the team standings after our first conference race: Varsity Girls: 5 Wins 1 Loss | Varsity Boys: 1 Win 6 Losses.
Congratulations Girls On 2nd Place Podium!
Mark your calendars, our next slalom race is next Friday, Jan. 21st at 3 pm at the National Winter Activity Center.