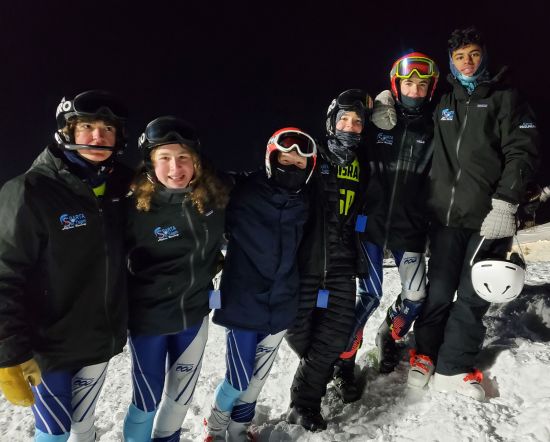 Podium Performance 2nd Place Varsity Boys & Girls Teams !
On the way to the race, we focused on one objective, FINISHING! Team victories are achieved when alpine racers manage their speed, and successfully cross the finish line.
Similar to the first race of the season, yesterday we raced in our final Conference vs Conference Mega Race. This was our second slalom race of the season and Sparta was competing against 8 high school race teams in Conference A. It was another cold night, with over 250 racers waiting their turn to send it down the fall line and carve up the course. Our extra day of gate training, helped to prepare us for the race.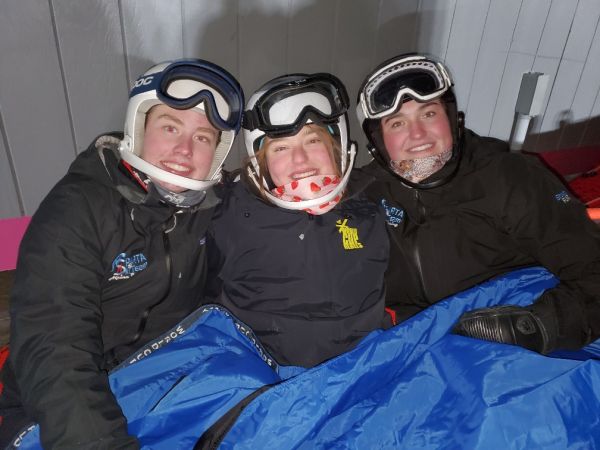 The boys varsity racers were motivated to ski the course conservative, yet strong, ensuring all six racers complete both runs, free of DNFs, DSQs & Ghost Times. With solid runs from all six racers, the Varsity Boys achieved a second place podium win with a team time of 7:02.90; just 16 seconds shy of first place. Team Captain Kanna Pasunuri led the boys varsity ski team, along with Drew Young, James Kressman and David Baker. All four Sparta boys finished among the top 30 out of 88 varsity high school racers. This performance helped boost the boys standings back to 50%. The boys team acquired 6 wins and 1 loss, perfectly offsetting the previous weeks negative race results. Winning the slalom race was Vernon High School with a team time of 6:46.94. Bergen Catholic skied to podium third with a team time of 7:13.73. Overall, including the combined results from all 16 boys race teams, Sparta Boys finished in 2nd Place. What a difference a week makes. Great Job Men!
It was a nail bitter for the Varsity Girls Ski Team. Although all six racers finished their first runs, a couple of times were worst than expected. Difficulty with second runs, eliminated two racers, limiting our team time to the four racers that would finish both runs. Not to mention, most that finished their second runs saw slower finish times. Luckily we had four of six racers finish and other teams faced difficulties too. Unexpectedly, when the results were posted, we were all thrilled to take podium second. Second year Varsity racer Madison Campisi led the girls team finishing 10th overall, followed by team mate Catherine Marussich, Captain Cora Moriarty and Emma Dyrsten. Vernon High School won the race with a team time of 7:51.58. Sparta finished second with a team time of 8:21.28 and Pope John finished third with a team time of 8:29.23. Overall, including the combined results from all 14 girls race teams, Sparta Girls finished in 4th Place. 
It was another long race, and by the time JV and X racers were ready to hit the course, it was colder, darker and lonelier up at the starting gate. Thanks to a large group of Varsity Spartans that re-gathered and loudly cheered on every JV and X racer by name, the starting gate was filled with excitement. Sparta JV racers had their own course running the same length, from start to finish, and were able to run the course twice. All six JV girls skied well and finished both runs. New to alpine racing, sophomore Julia Mooney had two impressive runs, winning JV Girls 1st Place out of 33 racers. Congratulations Julia! For the JV boys, Senior Devon Scott enjoyed a 4th place individual finish of the 63 racers.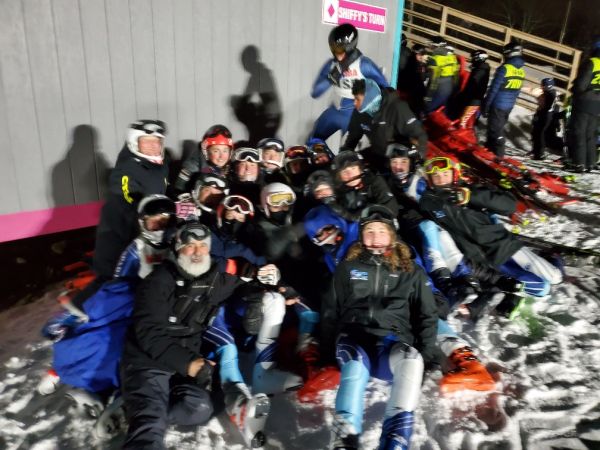 With only three weeks left in our regular season, things are starting to fall into place and I am very pleased with the progress and bond this team continues to build.
THANK YOU SPARTANS for the thoughtful warm chili delivery to my chilly office at the top of the mountain. You guys rock! 
Here are the team standings after our second conference race: Varsity Girls: 10 Wins 2 Losses | Varsity Boys: 7 Wins 7 Losses.
Congratulations Spartans On 2nd Place Podium!
Mark your calendars, our last slalom conference race is Tuesday, Jan. 25th at 5 pm at Mt Peter.