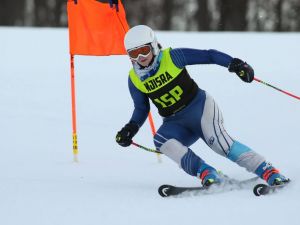 Despite the strong wind gusts and bitter cold temperatures bearing down on yesterday's final conference giant slalom race, both the boys and girls varsity ski teams were once again victorious. The Sparta varsity girls ski team won second place and the varsity boys ski team won third place. This is the first time in over 5 years that both the boys and girls varsity ski teams have won podium placement at all three conference Giant Slalom races.  Outstanding!   
The Sparta Girls Varsity Ski Team won second place with total team race time of 6:44.44. Just two seconds behind the first place winners Wayne Valley High School and more than a half a minute ahead of Bernard High School who finished third. Leading the Sparta Girls Varsity Ski Team to the 2nd place win were Olivia Finkeldie (2nd overall), Polina Novozhilova (4th overall), Jillian Stote (8th overall) and Claudia Calafati (13th overall). 
For the boys ski teams, it was a very tight race for podium placement. The Sparta Boys ski team won third place with a total team race time of 6:20.63, just 7 seconds behind the 1place winner Morristown Beard School and 2 seconds behind the second place winner Delbarton. Contributing to the boys strong performance were Brendan Muhs (4th overall), Connor McAndris (10th overall), Joe Russo (12th overall) and Jack Imgrund (13th overall). 
Once again Sparta JV Girls finished with the top four individual race times as follow: Olivia Calandrillo (1st place), Rylee Selsor (2nd place),  Evalyn Fitzsimmons (3rd place) and Bailey Plotts (4th place). For the boys JV racers, Jake Scott (2nd place) and Colin Kowalski (5th place) recorded race times placing them among the top five JV racers for the night.
A little insight about the character of this years ski team: While all the other high school race teams darted for the warmth of the ski lodge when their race was over, a group of Sparta Ski Team racers made their way back onto the freezing chair lifts up to the mountain summit to cheer on their teammates taking their final slalom run. Not even when the last Sparta ski racer descended the mountain did our racers leave the frigid 3 degree mountain top with wind chills below zero. Instead they chose to brave the arctic cold for another 10 minutes, and cheer on the balance of the other high school JV racers and X racers until the very last racer left the starting gate. They picked them up by chanting first names giving them a warm and enthusiastic send off. Now that is what I call pure love for skiing and great sportsmanship. Right On Sparta Ski Team!
Now onto Slalom training and tighter turns. This Friday Night Feb. 1st at 5pm, 8 boys and 8 girls on the Sparta Alpine Race Ski Team will be competing in the thrilling Dual Slalom Varsity Invitational race. To view the racer lineup click here https://www.spartaski.com/events.htm
Sparta Alpine Racers You Make Us Proud. Keep it up !