Girls Win The Petro GS Championship - Three Times In A Row!
It felt great to be back home at Mountain Creek racing in the Petro Championship. It was a sunny, warm Saturday on the Kamikaze race trail, and all of our racers were ecstatic to "Send It" knowing their family and friends were at the finish line cheering them on and ringing their cowbells. Since both the Sparta boys and girls alpine race teams finished the regular season among the top eight teams in the state, we prequalified to compete at state championships. The Petro GS was no longer a qualifier race for us, so the pressure to achieve podium placement was released. The Petro is a memorial race and all of our seniors who raced in the event were eligible to apply for a scholarship. All our alpine racers finished both runs and had a super fun day.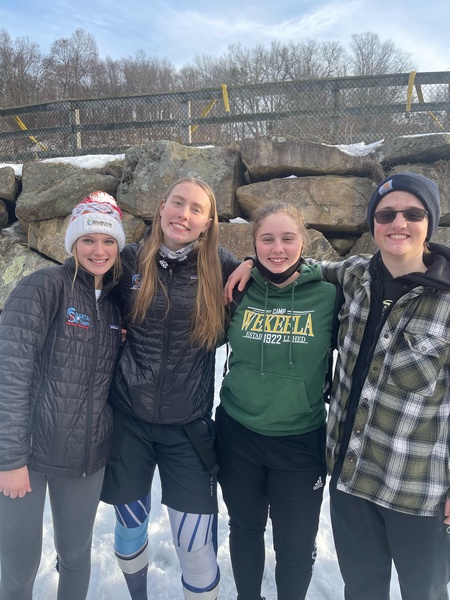 Over the years, the Sparta girls have performed at their best in the Petro Championship Race. With a chance to do it again they gave it their all and came up victorious. For the third time in a row, the Sparta Varsity Girls Ski Team won 1st place and took home the Petro Trophy. With a winning team time of 7:09.57 the girls easily won the competition. Immaculate Heart finished in second place with a team time of 7:18.93 and Vernon High School took third place with a time of 7:20.01. The four alpine racers delivering the win for Sparta were Madison Campisi, team Captain Cora Moriarty, Aubrey Zimmerman, and Catherine Marussich. Madison (7th), Cora (8th) and Aubrey (9th) finished back to back in the top ten overall.
The boy's varsity ski team raced without our number two racer and managed to step onto the podium and walk away with the 3rd place Petro trophy. Vernon won the race with a team time of 6:35.36. Bernards took second place with a team time of 6:48.17. Sparta boys captured podium third with a team time of  7:02.98. Team Captain Kanna Pasunuri lead the boy's team with a strong 5th place overall finish, along with teammates George Flint, David Baker, and James Kressman. 
A special "Thank You" goes out to Mountain Creek management and the hill crew for hosting the race and making the 2022 Petro Championship a great success.

Best of Luck At The State Championships !!!
Final team standings: Varsity Girls Ranked 7th | 75%: 27 Wins 9 Losses | Varsity Boys Ranked 6th | 69.2%: 27 Wins 12 Losses.
Ski Fast, Ski Strong, Ski Proud!
GS State Championships will be held at NWAC on Tuesday, Feb 15th at 10 am and the Slalom State Championships at Mountain Creek on Wednesday, Feb 16th at 1 pm.